The Eulogio "Amang" Rodriguez Institute of Science and Technology EARIST was established after the liberation of Manila in 1945. EARIST started as a vocational high school with only one room at the second floor of the Mapa High School, nine teachers, a clerk, and 147 students under Mr. Pantaleon Regala, its principal. Its former name was Eulogio Rodriguez vocational High School (ERVHS).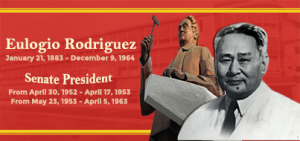 On July 1, 1946, EARIST acquired its present site in Nagtahan, Sampaloc, Manila. Apolinario Apilado was appointed principal, succeeded by Dr. Hilario G. Nudas in 1949.
EARIST's development was made possible via three Republic Acts and a Presidential Decree:
Republic Act 4070, jointy sponsored by thrn Congressman Ramon Bagatsing and Salih Ututalum in 1946, authorized the establishment of the Technical Education Department without changing the name of the school. It was headed by a vocational director.

Republic Act 5088, sponsored by congressman Sergio Loyola in 1967, authorized the renaming of ERVHS to Eulogio "Amang" Rodriguez Memorial School of Arts and Trades (EARMSAT) and signaled its separation from the Division of City Schools, Manila. It was headed by a superintendent.

Republic Act 6595, sponsored by Congressman Joaquin R. Roces in 1972, converted EARMSAT to EARIST with a president as its head. This made EARIST into a full-fledged college and authorized the establishment of vocational-technical school branches in each congressional district of Manila. Presidential Decree 1524, signed by President Ferdinand E. Marcos on June 11, 1978, converted Eulogio "Amang" Rodriguez Institute of Science and Technology (EARIST) into a chartered state college with a Board of Trustees as its governing body and Dr. Hilario G. Nudas, as its first college president.