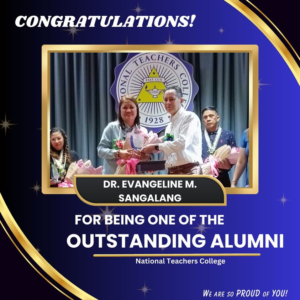 Our esteemed Dean, Dr. Evangeline Mallari Sangalang, has been recognized as one of the Outstanding Alumni by the National Teachers College, the institution from which she earned her Bachelor's Degree.
Dr. Sangalang is a highly respected figure in the academic community, demonstrating excellence across various facets of academia, including her role as a dedicated researcher, accomplished administrator, esteemed professor, accreditation expert, and committed extension worker. This award is a testament to the years of tireless dedication and hard work that Dr. Sangalang has devoted to her pursuits.
We extend our heartfelt blessings to Dr. Sangalang for her continued success in all her endeavors. The entire College community stands united in supporting her vision for advancing Competence, Excellence, and Discipline.
Poster by: CED Library Coordinator