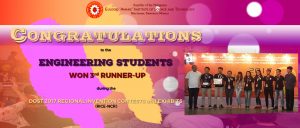 The Department of Science and Technology(DOST) thru the Technology Application and Promotion Institute and The DOST-National Capital Region held the 2017 Regional Invention Contest and Exhibits (RICE) with this years theme, "Invention & Innovation for the People" last October 3-5, 2017 at Technological Institute of the Philippines, Quezon City. A nationwide activity conducted in different regions to highlight the role of the Filipino inventors in the Philippines society and in the context of national economic development.
"Automated Small Scale Potato Chips Maker" won 3rd runner-up in the SIBOL (Creative Research)-College Category.   The winning team is composed of, Pauline Yenna D. Datu, Paul Anthony B. Saenz, Hannah Olivia M. Gracias, Crystal Grace H. Ramirez, Joseph M. Mongaya, Jowie C. De Leon, Medfilson M. Fillarca, Michael C. Caputan from the College of Engineering.
Other participating entries are; "Small Jacket for Visually Impaired Persons with GPS" ; "Optimization of the Organic Chicken Feeds" ; and awarded finalist is the "Balite Figs as as Alternative Biomass for the Production of Glycerin".